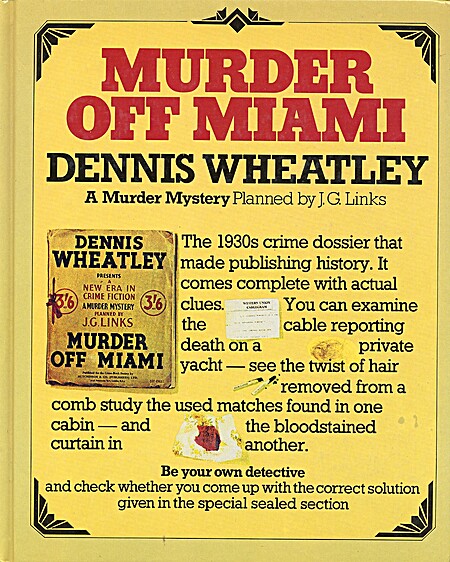 OK, I've finished it and formed my theory, but since MbD had pity on me last night (her time) and didn't exploit her world clock-generated advantage, I'll put all of my case notes (except for the corresponding headlines) in spoiler tags just to be on the safe side.   Though I do have a feeling we're on the same track as far as the solution is concerned.  But anyway!
[Note: Spoiler tags removed after comparing case notes with MbD.]
Bolitho Blane and Nicholas Stodart
Who are they really, anyway???
* No verifiable third-hand information from any indisputable source (Scotland Yard, British armed forces, British colonial administration, etc.) on either.
* Stodart's personal background especially re: the war years (WWI) is sourced only through S. himself. The British authorities don't even know him (i.e., he doesn't even have a birth certificate at Somerset House??)
* Ditto essentially Blane, who styles himself as a recluse and conducts even his business affairs chiefly "at the remote" — by telephone and cable / correspondence.
* Both Blane and Stodart surfaced in Britain suddenly, at some point after the end of WWI, with a vague background of having come from "the colonies" (Australia / India / South Africa).
* Nobody, not even Rocksavage and the yacht's captain saw Blane / Stodart come on board (as per Rocksavage's testimony, you can't see the gangway from the bridge).
* Nobody saw Blane immediately after boarding; even the steward was kept out of his suite.
* Only one person on board knows what Blane looks like — the Bishop, who wasn't in the lounge with the other passengers (minus Blane) before dinner on the fateful night and promptly has a fainting fit when Stodart enters the room where he is being interrogated.
* Similarly, nobody knows what Blane's handwriting looks like (or Stodart's for that matter).  The alleged suicide note is produced by Stodart.
* In fact, the entire suicide theory originates with Stodart.  (BUT: If you're staging a suicide, then why also stage a murder (tracks on the carpet, blood stains)?)
* Blane not only owns Argus Suds but (as per Jocelyn, who ought to know) also Redmeyer Synd shares, which at least before Blane's "exit" seem to have been faring considerably better than Argus Suds — and better than Rocksavage Con, even if not as well as the other stocks associated with Rocksavage (Denton Bros, Grandol Soaps, and Sen Toilet Preps).
* Why the sudden need for a secretary / assistant on Blane's part, shortly before this trip?!  Explanation given isn't convincing.
* What is the meaning of Stodart's toothache / ill-fitting dentures?  Something to do with blood?
New York (Blane & Stodart's Travel to and Stay There)

* Blane's luggage has tags for the Ritz, Stodart's doesn't (at least not visibly).
* Stodart's luggage has "Cunard Line" tag, Blane's doesn't (at least not visibly).  (NB: As per internet research, the R.M.S. Berengaria really was a Cunard ship in the 1930s.)
* Letter to the Bishop written on Adlon Claridge paper.  That seems to have been the Bishop's hotel in N.Y.:  The Adlon Claridge match found later suggests that the letter wasn't sent to the Bishop as part of the mail delivered on board, but already conveyed to him in N.Y. in some fashion.
* Interpretation that letter to Bishop contains a veiled threat and is intended to hush him up is probably correct.
* Blane's luggage contains dirty / used clothing for 2 days.  So was there a laundry on the R.M.S. Berengaria?  (N.B.: Blue riband winners in the mid-1930s clocked in at roughly 4 days' travel time.  So the voyage from England would easily have taken that long, if not a day or two longer.)  But wouldn't the Ritz have offered laundry services, too?
* Stodart's luggage not inventoried.  (Presumably because police consider him a witness?)
* By letter to Bishop, we know that Blane / Stoddart were (was?!) in New York on March 5.
* Then [t]he[y] found an excuse not to travel to Florida with the rest of the passengers, and only board the yacht there at the very last minute on March 8.
Crime Scene

* If Blane was shot, where is the bullet?  Why wasn't it recovered (near one of the blood stains or anywhere else)?
* Crime scene photos at the very least don't suggest bullet has entered the wall.
* No odd number of bullets found in Blane's possession (25 bullets sounds like a number that B. could have counted off and brought with him from home).
* What caused that blood stain's black rim — possibly black ink?
* "Suicide note" written in blue ink.  Comment on the back of the stock price listing written in black ink, like the stock price listing itself.
* Writing set on the desk seems to be missing one (the middle) pen.
* What color is the ink found in Blane's personal possessions — black or blue?  The inventory doesn't say.
* Where did whoever wrote the suicide note (if it was written on board) sit while doing so?  There is no chair anywhere near the desk.
* Additional notes on ink / paper:
(a) Both of Hayashi's notes are written in blue ink as well.  As per his and the steward's testimony, immediately after boarding no foolscap / writing paper and no ink available in his cabin (only after the main on-board store had been reopened and cabins could be reprovisioned from there).  Lacking writing materials in his own cabin, Hayashi had to resort to materials provided in the ship's writing room.
(b) No odd number of sheets of yellow writing paper on the block contained in Blane's possessions.  25 sheets sounds like this could be the complete block brought by Blane from home.
(c) 68 pages of foolscap suggests use of some of the foolscap paper, though.  But for what purpose?
* In Blane's room, no change of daytime or evening clothes seems to have been unpacked / laid ready for dinner (only his pyjama and dressing gown). — Stodart, OTOH, has had a change of shoes and socks at the very least.
* What is the black spot at the far end of the bathtub in Blane's suite?
* If the steward was in the adjacent room to Blane's suite, why didn't he hear anything?  (The shot may have been silenced, but literally nothing — no commotion, not Blane's / Stodart's voice(s), no sounds of something falling (the body?!)?  May be the fault of the nearby carpenter's work, though.
Time of the Murder

* See above: Why can't the murder (if such a thing occurred in the first place) have been committed right after boarding?  We only have Stodart's word for the assertion that Blane was alive then in the first place — and Stodart, by his own testimony, was alone in the room with him until 7:30 pm.
* At and after 7:00 pm (even more so, between 7:30 and 8:30 / 8:45 pm) it would have been dark outside, so presumably nobody would have seen what, if anything, was tossed out of the porthole of Blane's suite at that time.
* But: According to the page torn from Stodart's calendar, full moon at 4:15 am.  (Where exactly does that get us?  What, if anything, was planned for that time?)
* Stodart is the only person who was always in somebody's view and therefore has a perfect alibi during the entire time when Detective Kettering believes the murder was committed (i.e., after 7:30 or even after 7:45 pm). — As Sherlock Holmes, Hercule Poirot and Lord Peter Wimsey have all said on many a similar occasion: "There is nothing I distrust so much as a seemingly unbreakable alibi."
Relationship Blane / Hayashi

* Is Hayashi's note really about Blane's supposed intent to come to an agreement with Rocksavage?  I don't think so — rather, the wording suggests a specific action being contemplated by Blane, and of which he has given Hayashi advance notice; maybe in order to sway H. in his (Blane's) own favor.
* We know from Slick, aka the Count, that Blane had exposed Slick's card-sharping on a previous occasion, much to Slick's detriment.  Could Blane not have told Hayashi that if H. didn't grant the Japanese monopoly to him (Blane), he'd expose the bribery scheme to which Rocksavage had more or less already agreed?
Related Posts:
Dennis Wheatley & J.G. Links: Murder off Miami – MbD: It's Here!!
Dennis Wheatley / J.G. Links & Q. Patrick: Crime Dossiers & Crime File
Original post:
ThemisAthena.booklikes.com/post/1659609/murder-off-miami-case-notes