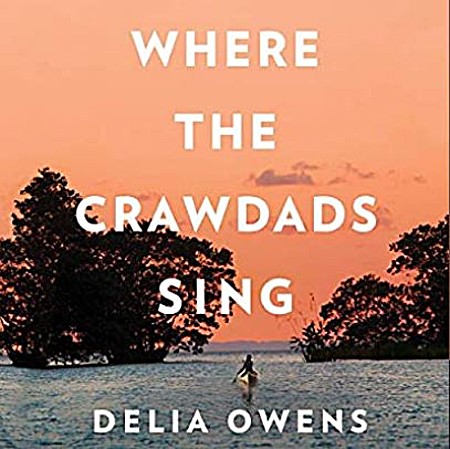 A wonderfully atmospheric book set in the marshes on the North Carolina coast; the story of Kya Clark, who is successively abandoned by her entire family while still a child, manages to survive in the derelict family home with the help of a few well-meaning friends, autodidactically (though jump-started by a former friend of her elder brother's, who eventually becomes her friend as well) turns herself into a marshland biologist, ecologist and science writer of considerable renown — and yet finally has to face up to her community's lifelong prejudice arising from her unusual lifestyle, over an accusation with potentially catastrophic consequences.
The bulk of the book is told in two parallel timelines; one following Kya from childhood to adult life; the other set during her young adult age and dealing with the event that will eventually threaten to bring her very life and existence under threat.  (It is at this latter point that both timelines merge into one.)  Kya is a heroine impossible not to root for, and Owens's writing, particularly in the first half of the book, is richly lyrical and emotive (without ever overstepping the boundaries towards facile emotionality), taking you right into the Carolina marshes, and into Kya's person.   In the second part, I could have done with a somewhat less extensive exploration of the courtroom scenario — which may sound weird, coming from me, as I do enjoy courtroom scenes a lot in mysteries (and of course courtrooms also feature rather largely in my day job); however, even though Owens was obviously using the sterile, formalistic operations of the state justice system as a deliberately jarring contrast with the freedom of Kya's life in the marshes and her intimacy with nature, I felt that part of the book could have done with a bit of streamlining.  Overall, though, this was a wonderful discovery and definitely one of the highlights among this year's bingo reads.
Reading Progress Update: 100%
Another strong recommendation for the "Fear the Drowning Deep" square: This is set in the marshland on the North Carolina coast and includes plenty of "sea" things (oceanic and sea shore critters of all sorts, boats, and not least the Atlantic Ocean itself) … but more importantly it's a wonderful read; profoundly atmospheric and with a very unusual, strong heroine that you can't fail to root for.
Original post:
ThemisAthena.booklikes.com/post/1958023/reading-progress-update-i-ve-read-100