Catherine Louisa Pirkis: The Redhill Sisterhood / L.T. Meade & Robert Eustace: Mr Bovey's Unexpected Will / Anna Katharine Green: The Golden Slipper / Wilkie Collins: The Law and the Lady
Halloween Bingo 2019: Read by Flashlight or Candle Light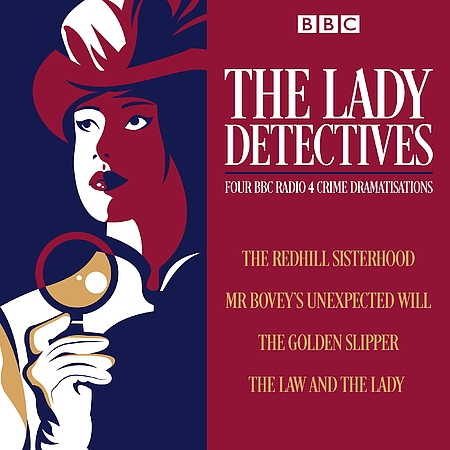 The Lady Detectives is a compilation of four full cast radio dramatizations of early Golden Age mysteries focusing on women detectives; not only pioneering works of detective fiction as such but works that give their women protagonists much greater agency than the majority of their female contemporaries would have had in real life — without, however, leaving the social confines of the time when these stories were actually written (and when they are also set).
Given both the "gaslight" setting of these mysteries and the length of this compilation (about three hours total), this seemed the ideal audiobook to use for the "Read by Flashlight or Candle Light" square.  I listened to the first two episodes last night while taking a bath, with my lovely new changing bottle lights on a chair next to the tub, and the remaining two episodes afterwards in bed (with a flashlight style light on my bedside table).
The Redhill Sisterhood by Catherine Louisa Pirkis is one of Pirkis's Loveday Brooke mysteries — a collection of which I ordered forthwith after having listened to this dramatization, which was by far my favorite of the lot.  Assuming that the dramatization represents Ms. Brooke's character by and large accurately, she is an enterprising young lady who is not afraid to put the (of course exclusively male) professional police firmly in their place, and of all four female amateur detectives featured here, she is also one of the two most resembling Sherlock Holmes in her approach to logics and reasoning.  Unlike the three other ladies featured in this collection, she seems to be investigating crimes merely for the fun of the thing, not out of some sort of personal or charitable compulsion (which especially endeared her to me). — This particular case concerns suspicions of robbery and theft that have arisen against a society of nuns in rural Surrey.
Mr Bovey's Unexpected Will is one of several cooperatios by L.T. Meade and Robert Eustace, featuring Ms. Florence Cusack: both Sherlock Holmes's and Loveday Brooke's equal in razorsharp logics and stone cold detection powers, but unlike Ms. Brooke, secretly suffering from a nervous affliction (which in turn provides her with her own medically-trained Watson-type sidekick).  In this particular case, she is engaged in an investigation involving fraudulent coinage and a millionaire's singular will.  Like all stories co-written by Robert Eustace (who was a doctor by training), the mystery's solution substantially depends on scientific processes; but while part of it is easy to anticipate (as is at least part of Pirkis's Redhill Sisterhood's solution), enough remains — at least in this dramatization — to create a bit of an element of surprise at the end.
The Golden Slipper is one of Anna Katharine Green's Violet Strange mysteries, involving an investigation into mysterious instances of theft occurring in New York's upper crust society. Ms. Strange is a member of that society herself (and thus arguably ideally placed to conduct this type of investigation), but she has a charitable motive to seek out gainful employment instead of living off her father's money and waiting for a husband to come along.
Wilkie Collins's The Law and the Lady, finally, involves a woman who, shortly after her marriage, finds out that her husband's name (and thus her own married name) is false and that under his real name, he had stood accused — without either having been convicted or judicially cleared — of having murdered his first wife.  Impulsively and staunchly believing in his innocence, she sets out to clear him once and for all. — Even in this dramatization, which condenses a 400+ page novel down to less than an hour's worth of listening, it becomes clear just how much of this story is pure Victorian melodrama; yet, Collins doubtlessly has to be credited with having created not merely some of the first detective novels as such but even one (in 1875) that features a woman as its chief investigator.
Original post:
ThemisAthena.booklikes.com/post/1955694/halloween-bingo-2019-read-by-flashlight-or-candle-light-the-lady-detectives