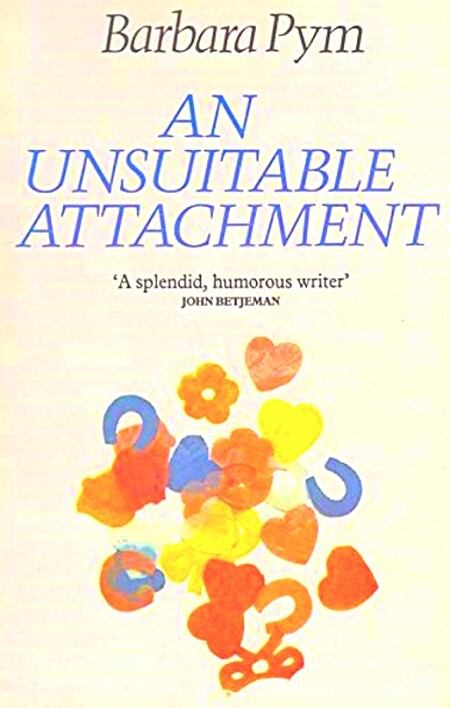 So — Pym's infamous seventh book, the one that was rejected out of the blue as allegedly "unpublishable" by the very publishing house that had happily published Pym's prior six novels to great success.
My edition is a Granada paperback from 1983, the year after it finally, posthumously saw the light of day; and it includes an introduction by Pym's friend Philip Larkin — who downplays his own role in getting her books belatedly back into the limelight, after an almost 15-year hiatus, but who does reveal a bit of his correspondence with Pym's former publisher on the issue … and I do find the publisher's assertion that this book was rejected on alleged "quality" grounds (rather than because the publisher felt it was out of date topically and stylistically) rather staggering.  All I can say is that publication standards have slipped abysmally between the 1960s and today, judging by more than just a few of the books accepted for publication these days (including, by the same imprint and house, Jonathan Cape / Penguin Random House).  In light of the acceptance of these books, the fact that An Unsuitable Attachment was initially rejected on alleged quality grounds is plainly mind-boggling.
And of course, given this novel's own destiny, the following paragraph in particular also makes for uncomfortably prescient reading (from p. 80 of my edition):
"An elderly female novelist had come in at a quarter to six and Penelope had found herself trying to explain why her latest novel had not been reviewed in the Sunday Telegraph, why it had not been advertised more widely, why copies had not been displayed 'on the bookstall of a friend's local station, why it had not yet been reprinted. […]

'This would not have happened with Mr Chatto or Mr Windus,' said the female novelist, as Penelope at last managed to get her out of the building.  'I shall go to the Army and Navy Stores,' she announced.  'They are sure to have copies of my book there.'"
And yes, Chatto & Windus is part of Penguin Random House these days as well.
An Unsuitable Attachment does not quite display the same cheerful atmosphere as Excellent Women; the tone is quite a bit more subdued, though still leagues away from A Quartet in Autumn (thank God).  But it has the same sense of understated humour, and as in Pym's other books, not a single word is superfluous or out of place — the writing is neat and precise, and as in her other novels, Pym generally doesn't need more than a single line to perfectly portray the essence of a character (or situation).  We're back in Pym's world of a parish in one of London's less descript neighborhoods, complete with the vicar and his wife (two of the novel's POV characters), a spinster librarian (who hasn't quite yet given up on matrimony, however), several bachelors, a young lady who has recently suffered a disappointment in love (but is undeterred in her quest for a husband, not least in light of the fact that she is "already" 25 years old), a retired nurse, a parish council and parish events, the liturgical calendar as the year's (and the novel's) ordering principle, several members of the elevated clergy in the characters' family backgrounds, genteel poverty, fish & chips, chicken in aspic and similarly questionable but quintessentially 1950s-60s culinary "delights", and the intricacies of the class system firmly implanted in everybody's heads, right down to such details as shoewear, interior decoration, and prejudices about eating habits.
Philip Larkin mentions in his introduction that "rather like the finale of a musical comedy", this novel also features an "omnium gatherum" of characters from all of Pym's previous books — nice to know, then, that they all seem to inhabit the same fictional universe, though this also makes me wonder whether there is a point to reading her novels in publication order after all (or at the very least, a point to revisiting An Unsuitable Attachment after having read all of the preceding books); particularly as Larkin is definitely right in observing parenthetically, à propos of another one of Pym's novels (A Glass of Blessings), that a "conversation …  about Rocky Napier is only fully meaningful if we have met him in Excellent Women" — I'm pretty sure this might be said about quite a number of the characters from Pym's other novels featuring as part of the "omnium gatherum" in An Unsuitable Attachment.  (Excellent Women is apparently represented here by … Everard Bone, incidentally.)
There is one character here, however, who is entirely unique and, unsurprisingly, my absolute favourite so far.
"'[T]heir cats will be looked after too — one only hopes Daisy won't put in more food for them than for the humans.'

Faustina looked up from her saucer, her dark face made all the more reproachful by its beard of milk.'"
Right you are, kitty.  Go Faustina!
Overall review and other reading status updates:
Overall review
Part 2: 110 / 255 pages
Part 3: 118 / 255 pages
Part 4: 183 / 255 pages
Original post:
ThemisAthena.booklikes.com/post/1879767/reading-progress-update-i-ve-read-106-out-of-255-pages