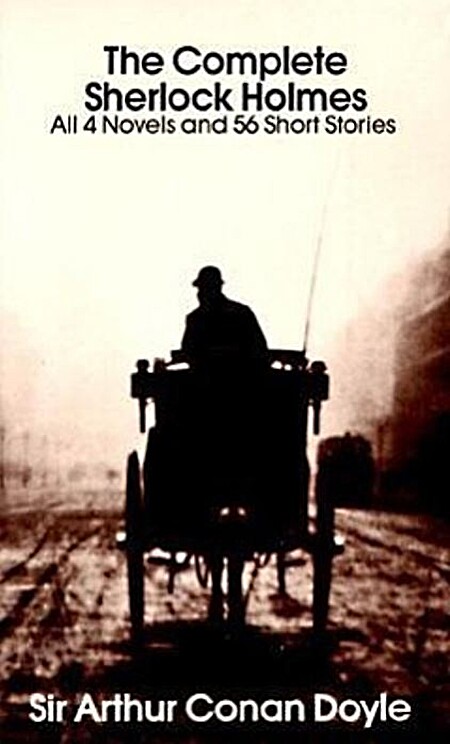 My May 2021 reading included one totally predictable binge: It's Arthur Conan Doyle's birth month, and I still had the complete Sherlock Holmes Canon as read by Stephen Fry that I'd acquired long ago sitting in my Audible app, waiting for the perfect moment to indulge … well, I figured this was it. 
However, I don't think the world needs yet another beat-by-beat rundown of every individual story in the Canon; and anyway, the Sherlock Holmes Canon as a whole really is a single literary entity and, as such, much bigger than its individual parts — larger than life, in fact –, and the same is true for every single one of the five short story collections belonging to the Canon in and of themselves.  Never mind that Conan Doyle wrote the individual works forming part of the Canon in fits and starts, over a period of 40 years, with huge gaps between the later works especially; and never mind that his outlook on life changed substantially (and noticeably in the Holmes Canon, too) over the course of that period — due to his, and his country's, war experience in South Africa and in WWI, the loss of his first wife (which Watson is promptly made to experience, too, if only in passing so as not to distract from the all-important detective work), his emerging interest in spiritualism, etc.  There is a reason why the reading public didn't let him get away with killing Holmes off at the Reichenbach Falls — and what a good thing it turned out, too, that we never actually see Holmes tumble down the Falls in The Final Problem but are getting the whole thing second-hand only, from Watson's perspective.  Conan Doyle may initially have considered this merely the logical consequence of telling each of Holmes's adventures (at the time, anyway) in the voice of his trusted sidekick; but that alone certainly doesn't explain why he has Watson being called away just prior to the apparently fateful encounter, and thus not on the spot as an eyewitness to the event.  Honi soit qui mal y pense?  Stephen Fry, judging by his introduction to The Memoirs of Sherlock Holmes, seems to think so.  Whatever Conan Doyle's reasoning, it's certainly a heck of a lot more convincing than walking out of your (ex-)fiancée's dream and having a shower …
Somewhere buried in the depths of the list of projects I might get around to at some undefined point in the future (and if life doesn't get in the way, which it has an irritating habit of doing) is the idea of a multiple-dimension series of reviews, taking into account not only the written originals as such but also their respective adaptations in the Granada / ITV series starring Jeremy Brett as Holmes and first David Burke, then Edward Hardwicke as Watson (word to the unwary: in my book, the only screen adaptation of ACD's works worthy of notice), along with the published commentary on that series (inter alia, by its producer / executive producer, Michael Cox), as well as other works of reference, and quite possibly also some of the Canon's more notable audio editions (narrated by Stephen Fry, Derek Jacobi, Edward Hardwicke, and Simon Vance, respectively, plus the radio dramatizations starring John Gielgud, Ralph Richardson, and Orson Welles).  Merely writing all of this down has made my head spin, however, so don't expect it to happen any time soon.  If ever. 
Anyway — for the moment I'm just going to highlight a few things that struck me upon this particular revisit (most of them, not for the first time) … and
*** SPOILER WARNING: ***
With works as well-known as these, I am going to assume that readers of this blog are familiar with their contents, but if you aren't, you're proceeding at your own peril from here, because I will be mentioning not only significant plot points but also the ultimate solutions of various stories. 
Last but not least, lest anybody feel short-changed by my summary rating of the Canon as such with five stars, by way of a more detailed summary here are my individual star ratings — note, though, that they've been subject to occasion half-star (or in rare cases also one-star) shifts over the course of time; and again: the whole is decidedly more than its constituent parts here.
A Study in Scarlet
The Sign of Four
The Adventures of Sherlock Holmes

A Scandal in Bohemia
The Red-Headed League
A Case of Identity
The Boscombe Valley Mystery
The Five Orange Pips
The Man with the Twisted Lip
The Adventure of the Blue Carbuncle
The Adventure of the Speckled Band
The Adventure of the Engineer's Thumb
The Adventure of the Noble Bachelor
The Adventure of the Beryl Coronet
The Adventure of the Copper Beeches

The Memoirs of Sherlock Holmes

The Adventure of Silver Blaze
The Adventure of the Cardboard Box
The Adventure of the Yellow Face
The Adventure of the Stockbroker's Clerk
The Adventure of the Gloria Scott
The Adventure of the Musgrave Ritual
The Adventure of the Reigate Squire
The Adventure of the Crooked Man
The Adventure of the Resident Patient
The Adventure of the Greek Interpreter
The Adventure of the Naval Treaty
The Final Problem

The Hound of the Baskervilles
The Return of Sherlock Holmes

The Adventure of the Empty House
The Adventure of the Norwood Builder
The Adventure of the Dancing Men
The Adventure of the Solitary Cyclist
The Adventure of the Priory School
The Adventure of Black Peter
The Adventure of Charles Augustus Milverton
The Adventure of the Six Napoleons
The Adventure of the Three Students
The Adventure of the Golden Pince-Nez
The Adventure of the Missing Three-Quarter
The Adventure of the Abbey Grange
The Adventure of the Second Stain

His Last Bow

The Adventure of Wisteria Lodge
The Adventure of the Red Circle
The Adventure of the Bruce-Partington Plans
The Adventure of the Dying Detective
The Disappearance of Lady Frances Carfax
The Adventure of the Devil's Foot
His Last Bow: The War Service of Sherlock Holmes

The Case-Book of Sherlock Holmes

The Adventure of the Mazarin Stone
The Problem of Thor Bridge
The Adventure of the Creeping Man
The Adventure of the Sussex Vampire
The Adventure of the Three Garridebs
The Adventure of the Illustrious Client
The Adventure of the Three Gables
The Adventure of the Blanched Soldier
The Adventure of the Lion's Mane
The Adventure of the Retired Colourman
The Adventure of the Veiled Lodger
The Adventure of Shoscombe Old Place