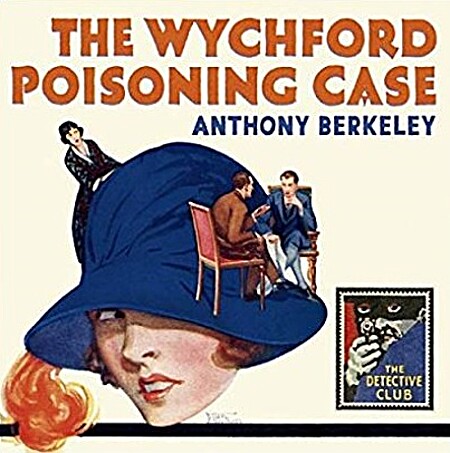 The fifth time, this year alone, that I've found myself running into a fictional incarnation of the (in)famous real life case of Florence Maybrick, the American-born Liverpool housewife convicted, in 1889, of having murdered her husband by administering to him a dose of arsenic obtained by soaking flypaper in water — allegedly in aid of concocting a beauty cream.  Mrs. Maybrick's method, if indeed this was how her husband found his premature end, may have engendered several real-life copycats (including, most famously, just after the turn of the 20th century, Frederick Seddon and Herbert Rowse Armstrong … if the medical evidence given at their respective trials is to be believed, that is), and British mystery writers have downright flocked to her footsteps ever since in fiction as well.  Agatha Christie used a variation of the Maybrick case as a basis for Crooked House; Anthony Rolls based Family Matters on pretty much every salient detail of the Maybrick story except for the flypaper bit; which in turn, however, makes a starring appearance in P.D. James's short story Great Aunt Ally's Flypaper (later republished as The Boxdale Inheritance), which features a very young Sergeant (Inspector-to-be) Dalgliesh and is included in my very first read of this year, the P.D. James short story collection The Mistletoe Murder (as the title indicates, a "holdover" from my 2017 Christmas reads), as well as in the Detection Club anthology Verdict of 13, which I also read for this year's Halloween Bingo.  Finally, also in that latter anthology, Christianna Brand has the real-life Mrs. Maybrick meet two other alleged, famous 19th century women poisoners in a story aptly entitled Cloud Nine.
No wonder, then, that Anthony Berkeley, like his fellow Detection Club members acutely aware of the criminal causes celèbres of his own and of bygone eras, would also seek inspiration in Mrs. Maybrick's legacy.  Martin Edwards makes the case, in The Golden Age of Murder, that Berkeley's books offer clues — perhaps more so than the books of his fellow Golden Age mystery novelists — to his own personality, experience, and outlook on life.  I haven't read enough books by Berkeley yet to make up my mind how much I think there is to this theory, but if The Wychford Poisoning Case is any indication indeed, Mr. Berkeley (despite his reportedly boisterous persona) was, deep down, a very reticent and private man … and supremely uncomfortable around women, who are either "high" or "low", either vamp, stupid chicken, naughty girl, mother, MissMarpleSilverBradleyVane incarnate, or grand dame, and only in the last-mentioned cases accorded a halfway rounded, three-dimensional, individual personality (with some allowances made in favor of girls from a decent background, who have the makings of turning either into true ladies / grand dames, or into women detectives or fiction writers, or even into all of the above, later in life).  There are passages in this book that are redolent with blatant misogyny, and yet, I hesitate to append this label wholesale … more than anything, it seems to me that Berkeley very much wanted to, but simply didn't "get" women and, consequently finding himself rejected and dissatisfied (none of his several marriages were happy), resorted to the stereotype prevalent in his era anyway; essentially, the "sinner or saint" dichotomy.
That all being said, the mystery itself is cleverly constructed, and notably this is not the only book where Berkeley's series detective, Roger Sheringham, comes into the case on the side of the accused woman and with the express intention to exonerate her from what he considers a rash and unjustified charge.  And while the true facts of the Maybrick case will almost certainly never be unraveled, it is just conceivable that Berkeley did, in fact, hit on the one solution that was closest to the historic truth.