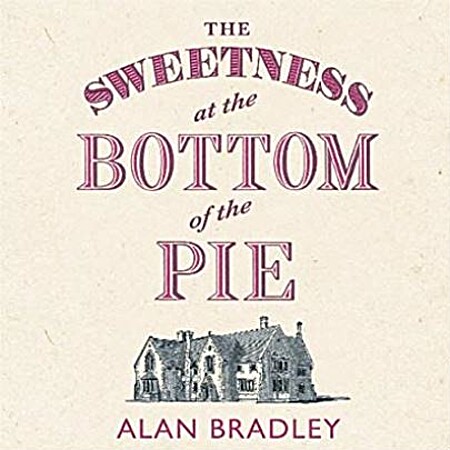 Sigh.  There is a lot to like in this book: the writing, the setting and the atmosphere, the underlying historic research (including appropriate pop culture references as much as a sensitive treatment of post-war PTSD), the opening nod to Jane Eyre, the bickering sisters, the fact that Flavia has given her bike a name and treats it as if it were a horse, and, well, the mystery as such.  Unfortunately, the one character I'm having a problem with is Flavia herself.  Oh, I get it — she's intelligent and beyond precocious, she loves books, and she spends a lot of time alone and she has decided to turn vice into virtue ("if nobody else loves me, I have to love myself" — remarkable insight to be expressed by an 11-year-old in pretty much these terms).
But that's exactly where my issues begin … despite the odd age-appropriate behavior towards others, by and large both her mental processes and many of her emotional responses come across as way too adult.  I'll even grant her love of chemistry — Graham Young was obsessed with chemistry from an early age, too, and knew enough about poisons to murder his stepmother, after almost having succeeded in killing his sister, at the tender age of 15 — and nearly get away with it, too.  But leaving aside that going from age 11 to age 15 is still a virtual quantum leap in the development of a child: (1) knowledge of chemistry doesn't equal medical knowledge, and Flavia seems to dispose of an unreasonable amount of highly specific medical knowledge along with her knowledge of chemistry, including certain rare medical conditions (and don't get me started on how she could (not) have read about all of that in Gray's Anatomy); (2) book knowledge doesn't equal experience, and more often than not Flavia's analysis, actions and responses are not explicable by book knowledge, but only by the insight and reflections generated by a life experience far above and beyond even the most precocious 11-year-old child (this is particularly true in the final scene — actually that whole scene is ridiculously implausible on pretty much every single level, but Flavia's age-inappropriate responses had started to bother me right at the beginning, with her discovery of the dying man); and (3) similarly (and on a related point), the grown ups' treatment of Flavia is way too "eye level" to be believable.  Kudos to her dad for taking her seriously and trusting her with the full, tragic back story of the events, but for anybody else, let alone a policeman, to take an 11-year-old girl entirely seriously and communicate with her essentially like they would with an adult is just simply not realistic.
Maybe I've simply outgrown "child investigator" books — I used to love the Three Investigators series and Enid Blyton's Famous Five, and Arthur Conan Doyle's "Baker Street Irregulars" make me smile to this very day.  But even the "Irregulars", for however streetsmart they are, don't display any age-inappropriate behavior or reasoning; ACD knew as well as Enid Blyton and the Three Investigators authors that adults tend not to take children seriously, and even more importantly, they all understood that even fictional children get to outfox the police only if the policemen in question are just plain too dumb to solve the case on their own.  But Inspector Hewitt doesn't strike me like that at all.
So, sorry for spoiling everybody else's party; I know I'm the odd one out here.  Don't mind me — just go on enjoying Flavia's adventures.  I simply won't be along for the ride.
Listening Progress Update: 120 of 396 Minutes