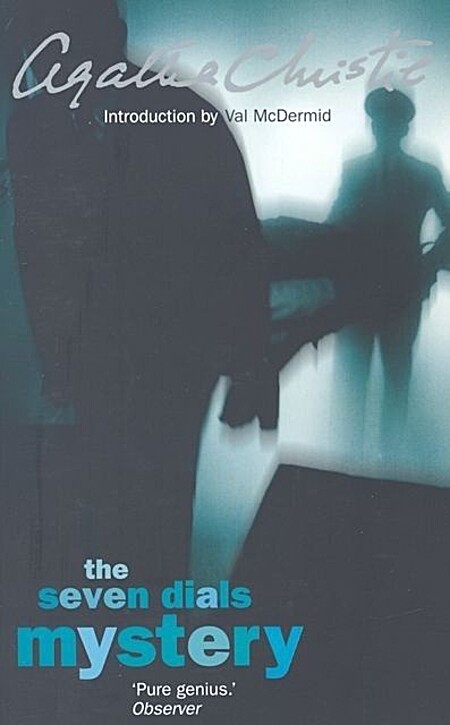 The Seven Dials Mystery marks our second (and in Bundle's case, alas, final) meeting with Lady Eileen "Bundle" Brent and Scotland Yard Superintendent Battle, both of whom we first encountered in The Secret of Chimneys.  While they both were (key) supporting characters there, here Bundle gets star billing, and that's a very good thing, because she is one of the most accomplished (in every sense) examples of Agatha Christie's strong, independent young women characters, easily on par with Tuppence Beresford, whom she resembles in many respects.
The book's plot — premise, action, ending and all — is just about as preposterously unlikely here as it is in Bundle's and Battle's first outing and in The Secret Adversary; in fact, it's yet another reprise of the "the young, intrepid adventurers and the secret society" theme that dominates both of the other two books, but I've reread it and rewatched the delightful 1981 screen adaptation starring Cheryl Campbell as Bundle so many times at this point that it doesn't even give me pause for a single second; it's really all about Bundle, her lovable scatterbrained father, Lord Caterham (John Gielgud in the TV adaptation), and plenty of dazzling, mysterious atmosphere.  Sir Oswald and Lady Coote, as well as George Lomax, all of whom we also know from The Secret of Chimneys, reappear and provide a good part of the latter … as well as almost as much merriment as Lord Caterham; Christie even pulls an Austenesque stunt between Bundle and the hapless Lomax worthy of the proposal scene between Mr. Collins and Lizzy Bennet in Pride and Prejudice.  And I do think it's a minor stroke of genius for the TV adaptation to have Bundle's amateur co-investigator Jimmy Thesiger being portrayed by James Warwick (also Tommy Beresford in the 1980s' TV adaptation of Partners in Crime starring Francesca Annis as Tuppence), because even though The Seven Dials Mystery was actually adapted for the small screen before the first two Tommy & Tuppence books, in hindsight this choice of actor only enhances the way in which Christie plays with her readers' expectations in The Seven Dials Mystery (as she does, too, though in a slightly different way, in The Man in the Brown Suit, The Secret Adversary, and The Murder of Dr. Ackroyd) — and something similar can be said for the portrayal of Bill Eversleigh by Christopher Scoular, who at the time was often cast as the type of the thoroughly goodnatured, harmless and not overly intelligent young man about town (see, for example, his role as Lord Peter Wimsey's friend Freddie Arbuthnot in the adaptation of Dorothy L. Sayers's Wimsey & Vane canon starring Edward Petherbridge and Harriet Walter).
By and large, I vastly prefer Agatha Christie's mysteries to her particular blend of rom-com and thrillers, but whenever I'm in the mood for something lighter (however silly its plot), this is definitely one of my go-to books, as are the first Tommy & Tuppence books (and their TV adaptation).  It's a pity that Bundle only appears in two novels total: she is so similar to Tuppence Beresford that Christie may have felt there was no point giving her more face time, particularly as Tommy & Tuppence by this time had already cornered the "married young intrepid sleuths" storyline, too; besides, Christie was off to new adventures both in her writing (enter Miss Marple) and in her private life (enter Max Mallowan) soon after she had finished this book — but it would still have been nice to see her again occasionally, just as Christie had Tommy & Tuppence reappear sporadically at various points of their life in later years.

Seven Dials
(photo mine)

The cast of the 1981 TV adaptation, from left: Superintendent Battle, Jimmy Thesiger, Bundle Brent, and Lord Caterham (Harry Andrews, James Warwick, Cheryl Campbell, and John Gielgud)
(Image source)