Dear Aunt Jane's Shorter Cases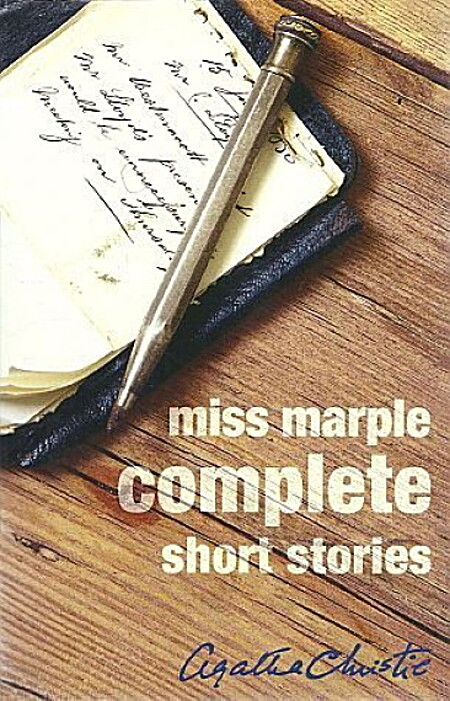 "Miss Marple insinuated herself so quickly into my life that I hardly noticed her arrival," Agatha Christie wrote in her posthumously-published autobiography (1977) about the elderly lady who, next to Belgian super-sleuth Hercule Poirot, quickly became one of her most beloved characters. Somewhat resembling Christie's own grandmother and her friends, although "far more fussy and spinsterish" and "not in any way a picture" of the author's granny, like her, she had a certain gift for prophecy and, "though a cheerful person, she always expected the worst of everyone and everything, and was, with almost frightening accuracy, usually proved right."
Although Christie herself considered Miss Marple her favorite creation – preferred even over the prim and proper Belgian with the many "little grey cells," of whose exploits she occasionally tired and whom she brought back again and again chiefly because of her audience's undying demand – there are only twelve Miss Marple novels and twenty short stories: while no small feat in any other author's body of work, just over one tenth of the lifetime output of the writer justifiedly dubbed The Queen of Crime.
This compilation unites the twenty short stories revolving around St. Mary Mead's elderly village sleuth, beginning with the canon of originally six and, after an expansion for republication in book form, later thirteen stories which, in addition to the novel A Murder at the Vicarage (1930) introduced Miss Marple to the world; a series of unsolved problems told by her guests one Tuesday night, to be followed by six further problems narrated during a similar gathering at the home of village squire Colonel Bantry and his wife Dolly, about a year later. In attendance on those two nights are a number of people who make recurring appearances next to Miss Marple; first and foremost her doting nephew – thriller novelist Raymond West – and retired Scotland Yard Commissioner Sir Henry Clithering, as well as village solicitor Petherick, and of course the Bantrys (who will move center stage, much to their embarrassment, in A Body in the Library, 1942); furthermore Raymond's new flame, artist Joyce (later reincarnated as his wife Joan), a doctor, a clergyman, and a well-known actress. Later stories also feature appearances of Miss Marple's niece Diana "Bunch" Harmon, married to the vicar of Chipping Cleghorn, a village not unlike St. Mary Mead (see A Murder Is Announced, 1950), St. Mary Mead's Dr. Haydock, several maids called Gladys, as well as Inspectors Slack and Craddock and Colonel Melchett of Melchester C.I.D. and village Constable Palk; and of course the usual cast of other unique characters, many of whom could just as well figure in one of the elderly lady's "village parallels," those seemingly unimportant events summing up her knowledge of life, on which she unfailingly draws in unmasking even the cleverest killer. Avid Christie readers will also recognize certain other character types, plot snippets, settings and other features here and there; for Dame Agatha was known to draw repeatedly on devices she found to have worked before, and she tended to use her short stories as mini-laboratories for elements later expanded on in novels. Caveat, lector, of premature conclusions, however, for Christie was equally known to throw in a little extra twist in such cases: what is a real clue in one instance may well be a red herring in another and vice versa, and one story's innocent bystander may easily be the next story's murderer.
The Thirteen Problems
(1932, a/k/a "The Tuesday Club Murders"):
The Tuesday Night Club: Sir Henry Clithering opens the evening with the case of a woman's mysterious poisoning by arsenic.
The Idol House of Astarte: A man inexplicably dies after a costume party's nightly excursion to a pagan temple.
Ingots of Gold: Raymond West tells about a treasure hunt, sunken ships and murder on the Cornish coast.
The Bloodstained Pavement: Joyce and the case of a drowned wife in a Cornish watering place called Rathole.
Motive vs. Opportunity: Mr. Petherick's tale of a will that mysteriously vanishes from its sealed envelope.
The Thumb Mark of St. Peter: Miss Marple's story how she quashed rumors about the sudden death of her niece Mabel's husband.
The Blue Geranium: Opening the second round of mysteries, Colonel Bantry's narration about a prophecy involving death and three uncharacteristically blue flowers.
The Companion: Two English ladies go on a holiday in Tenerife, but only one returns home alive.
The Four Suspects: Sir Henry Clithering's account of the murder of a retired secret agent.
A Christmas Tragedy: Having failed to prevent a murder, Miss Marple is all the more eager to unmask the murderer.
The Herb of Death: Mrs. Bantry's gifts as a storyteller, a serving of sage and foxglove, and a charming young girl's unexpected death.
The Affair at the Bungalow: Double-dealings, charades and mischief on stage and off, just outside of London.
Death by Drowning: A village girl "in trouble" finds a desperate solution – or does she?
From "The Regatta Mystery and Other Stories" (1939):
Miss Marple Tells a Story: Miss Marple assists Mr. Petherick in the case of a client accused of having murdered his wife.*
From "Three Blind Mice and Other Stories" (1950):
Strange Jest: A rich iconoclast's final joke – at the expense of his heirs?*
Tape-Measure Murder: Miss Marple's knowledge of village life and human nature (once more) corrects the all-too straightforward path of Inspector Slack's investigation of an elderly lady's murder.*
The Case of the Caretaker: Dr. Haydock's story about a rural rascal, a poor little rich girl, an old estate and its grumpy caretaker.*
The Case of the Perfect Maid: Domestic service and burglary in a Victorian estate-turned-apartment building.*
From "The Adventure of the Christmas Pudding" (1960):
Greenshaw's Folly (republished in Double Sin, below): A reverse-locked-room mystery at an eccentrically-built country estate.
From "Double Sin and Other Stories" (1961):
Sanctuary (first published 1954, a/k/a The Man on the Chancel Steps): The last secret of a man found dying on Chipping Cleghorn's church steps.*
~~~~~~~~~~~~~~~~~~~~~~~~~~~~~~~~~~~~~
* Republished posthumously in Miss Marple's Final Cases (1979).
Merken