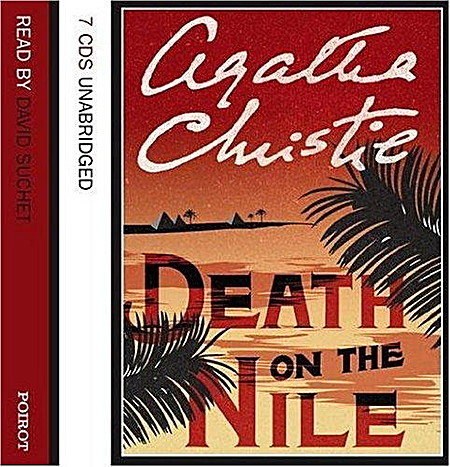 … I binged and finished this in one go yesterday.  Is that a bad thing?  I mean, it's still a buddy read of sorts, isn't it?
Related Posts
Death on the Nile Buddy Read (David Suchet Audio):
Buddy Read Announcement
Opening Post
Death on the Nile:
Kenneth Branagh Audio Version
Murder on the Nile (Play):
Reading Progress Update: 58 of 104 Pages
Final Review
Original post:
ThemisAthena.booklikes.com/post/1889631/umm-so
~~~~~~~~~~~~~~~
Discussion on BookLikes:
Moonlight Reader
I have taken the opposite tack, and am savoring it quite slowly. I'm just at 45%.
Themis-Athena's Garden of Books
Very sensible. 🙂
That had been my intention as well. But before I knew it I was at the end of the audio …
Moonlight Reader
What did you think of Suchet's voice for Colonel Race?
Themis-Athena's Garden of Books
I hate it — I first listened to this audio a few years ago, so I was prepared for it this time around (ditto his voice for Mrs. Van Schuyler, for that matter, though Race is even worse) … but it was quite a shock back then and it's the key reason why this audio will never be a 5-star experience to me, however much I may love the book. I still decided to revisit it this time around because Suchet's narration is quite nice in other respects, and dammit, he *is* Poirot, after all. But I wish they'd re-recorded this one with Hugh Fraser at some later point.
BrokenTune
Actually, his Mrs. Van Schuyler reminds me of Mrs. Van Hopper in Rebecca, probably not a bad comparison. But yeah, his "voices" – especially for Col. Race – are totally off.
Themis-Athena's Garden of Books
True, there is a great resemblance between the Mrs. Van Schuyler and Van Hopper!
BrokenTune
I'm doing a deliberate slow read, but I have to say, there is no such thing as a bad Poirot binge.
Themis-Athena's Garden of Books
Hehe. There definitely isn't. 🙂
Other Blog Posts and Associated Discussion